Happy New Year! Good bye 2012, Hello 2013 – Resolutions, Bucket Lists, and Goals for 2013
It's been an amazing year, and 2013 promises to be exceptional as well. We got back in to Toronto this morning on the red eye from Las Vegas. It was one of the most easy going customs experiences I've ever had coming back into Canada. Maybe we looked especially pathetic and tired. Maybe it was just our lucky day, but whatever it was, the whole security process was almost… pleasant… or at the very least, as pleasant as possible.
I will have to do a full recap of the last week celebrating my birthday in San Francisco and Las Vegas, because the sights and food in both cities were awesome.  But for now, let's talk goals for 2013. I'm opting to do three projects this year: 101 in 1001 days/Day Zero Project. The Embodiment Project. And potentially the most challenging of all – 365 days of self portraits.
Once upon a time I finished the 101 in 1001 days project. It's more than just making yearly resolutions, because it gives you time to actually do the things you want to do, especially when you have some longer term goals. The pressure is off, and it's really fulfilling to look back on all the items crossed off the list. It's also flexible, and open to reevaluation.
For the 2007 – 2010 portion, I finished over 90 of the items on my "To Do" list. Back then I just used my blog to keep track of my progress but since then, websites like the Day Zero Project where you can log your goals, track your progress, and share with other people (or not). Another thing that's great about the site is that you can start at any time, and it'll do the 1001 day count for you from that day.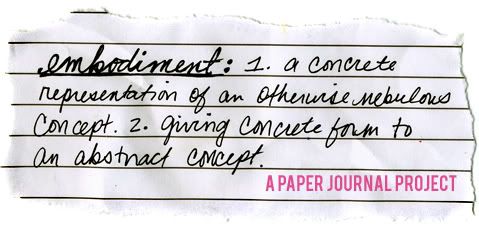 The Embodiment Project is a non-digital paper journal project where you write something everyday, and ties in well with the 101 in 1001 days idea. I remember being encouraged to do something worth writing about every day, and when I wasn't sure what to write about, I always had a list of things I could reflect on. Originally, I found the project in a  livejournal community (which is still somewhat active). So far I've written on letter paper from our Hotel in Las Vegas, and scraps of paper found around the house, but I'm on the hunt for a nice big paper journal to add photos and other personal ephemera.
Taking 365 Self Portraits is not going to be easy on me, it will be but I think the end result will be interesting. I generally hate having my picture taken, and most of the time, hate looking at pictures of myself, but I think it's time to get over it, and confront the standard body image issues that seem to touch everyone at some point. I'm hesitantly excited.
Food Related Bucket Lists for 2013
So far I've come up with the following, (drawing on inspiration from Jodi at Simply Fresh and the Mom Who Runs). I asked JC what would be on his Food Bucket list he said "I don't like eating food from buckets." So he's no help at all. But it gave me a good laugh either way.
Ask one non-vegan fine dining restaurant in Toronto if they can make us something vegan friendly. (maybe Marben, Woodlot, or Canoe)
Cook a 5-course vegan meal for at least 5 people.
Make vegan cannoli.
Enter the Totally Fabulous Vegan Bake-Off  (I've got until January 18th, 2013 – and so do you!)
Make a meal entirely using the principles and techniques of molecular gastronomy.
Finish the Food Science & Technology, Chocolate Science, and Wine Science textbooks I've been very slowly reading over the last few months.
Since I'll be doing some farming at Fresh City Farms this year, I'd like to aim to grow at least one vegetable or edible plant in general that I'm not familiar with, while still being hearty enough for our climate.
This is a soft goal dependent on time, money, and availability but I would really like to participate in The Depanneur's drop-in dinners as a guest chef.
So far the year has started off with love, excitement and hope, and I'm really looking forward to the other 363 days. All the best to you and yours in 2013!
What's your biggest goal for 2013?